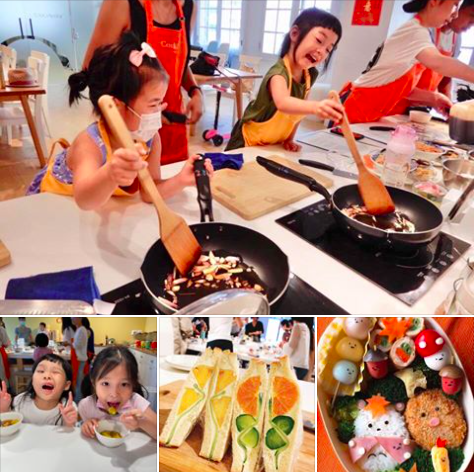 Kid's Summer Cooking Classes
Cooking = Hands-on + Delicious + Fun!
We are excited to announce a full line-up of cooking classes for kids & teens. With interactive instruction from our skilled instructors, young chefs get to chop, mix and roll their way to a different delicious dish in each class. Kids learn valuable culinary skills and new recipes, enjoy a fun hands-on activity, and are inspired to expand their taste buds to discover that "real food" can be really good.
Age 4-7: have class with 1 parent
Age 8-15: have class independently
*******************************************
Classes:
(1)Taiwanese Handmade Noodles & Dumpling
Menu: Braised beef noodle soup&Potstickers dumpling
July 1st , Wed   10:00am-13:00pm
July 4th, Sat    10:00am-13:00pm
(2)Oh-Bear Characters bento
Menu: Cute Japanese-style bento
July 8th , Wed   10:00am-13:00pm
July 11th, Sat    10:00am-13:00pm
(3)Summer fruit desserts
Menu: Mango mille-crepe cake & Pretty fruit sandwich
July 15th , Wed   10:00am-13:00pm
July 18th, Sat    10:00am-13:00pm
(4)Handmade Italian pasta
Menu: Handmade colorful Farfalle & Spaghetti Bolognese
July 22nd , Wed   10:00am-13:00pm
July 25th, Sat    10:00am-13:00pm
**********************************************
Tuition Fee: (per class)
NT$1,900 for 1 person, NT$3,600 for 2 ppl, NT$5,100 for 3 ppl
*Customized class is available for 4 ppl and above
Venue:CookInn Taiwan  (8F., No. 210, Sec. 3, Nanjing E. Rd., Zhongshan Dist., Taipei City 10491, Taiwan)
Book NOW 👉👉👉
https://forms.gle/E81Tv5tGHfuHJ3GV7