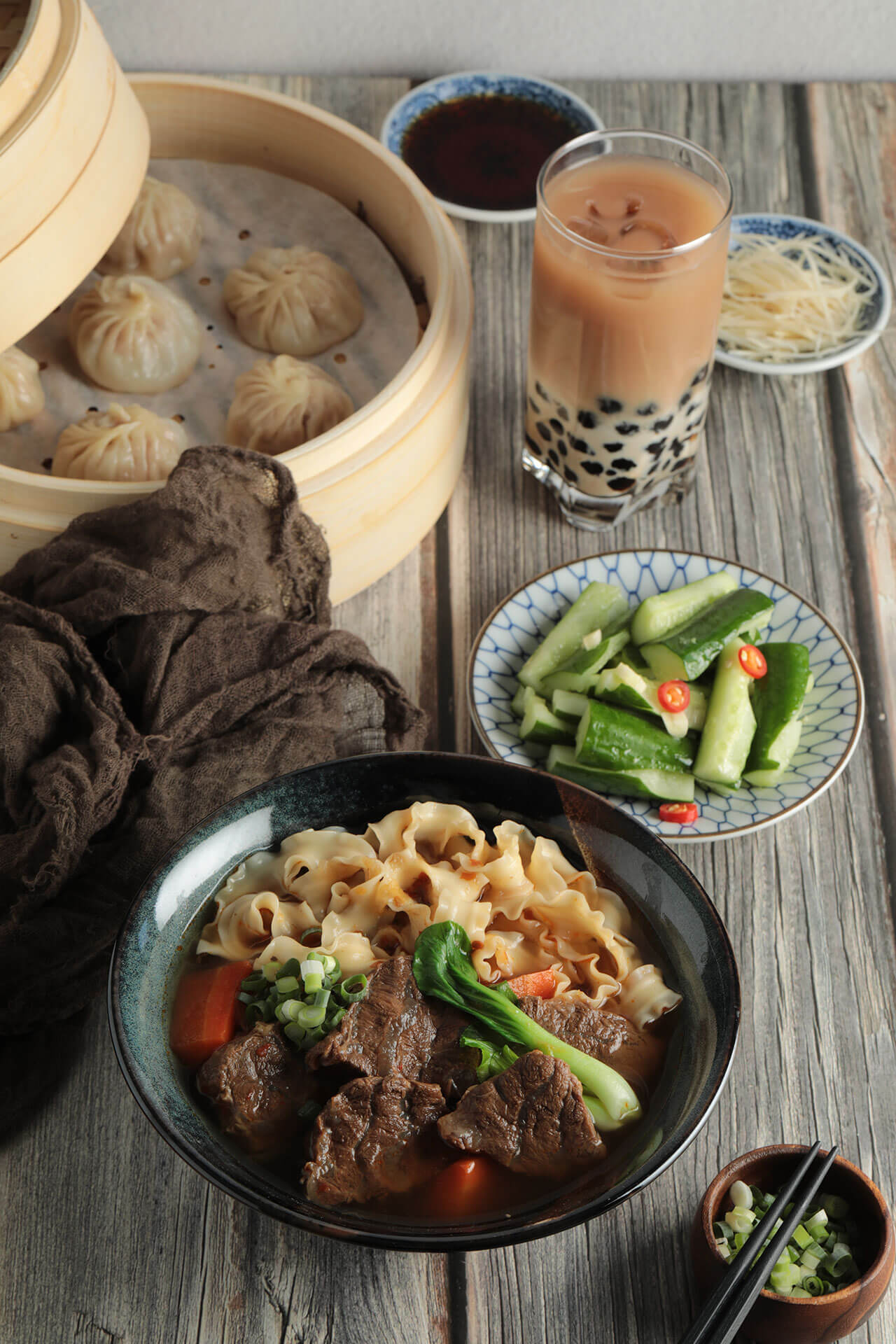 Xiao Long Bao & Beef Noodles
(incl. Traditional Market Visit)
-Xiao Long Bao (Soup Dumplings)、Braised Beef Noodle Soup、Seasonal Greens、Bubble Milk Tea-
You've all heard that "Xiao Long Bao" is a must try in Taiwan and have possibly fallen in love with the taste already, now imagine you'll be able to make it yourself! Our Taiwanese Xiao Long Bao & Noodles Class will show you the secrets to the juicy Soup Dumplings and the rich flavors of the Braised Beef Noodle Soup, as well as how to craft that blend of the Bubble Milk Tea you've become addicted to.
This enjoyable and rewarding feast is CookInn Taiwan's most popular experience. During the 3 1/2 hour class, you'll be guided through the historic traditional Changchun market to be fully immerse in the local vibe and meet the vendors who offer locally grown, seasonal goods.
Once we return to the cozy CookInn classroom, the cooking fun begins! Be prepared to learn the 3 signature dishes: Xiao Long Bao, Braised Beef Noodle Soup, and Bubble Milk Tea from the instructor, teaching you to make the tender skin of the soup dumplings from scratch and showing you how to shake up a perfect Bubble Milk Tea.
Classes on: Tuesday, Thursday, Saturday
Time: 9:30 – 13:00 (Includes lunch)
Price: NTD 2,500/per person
Language: English, Japanese, Mandarin
* Receive full recipes and photos from the class
* This class is suitable for ages 12 and above, those under this age may accompany 1 free of charge
*Vegetarian Menu: Xiao Long Bao (with Luffa & Mushroom), Vegetable Noodle Soup, Seasonal Greens, Bubble Milk Tea